Vonnda named 2021 Top Development Company in San Francisco by Clutch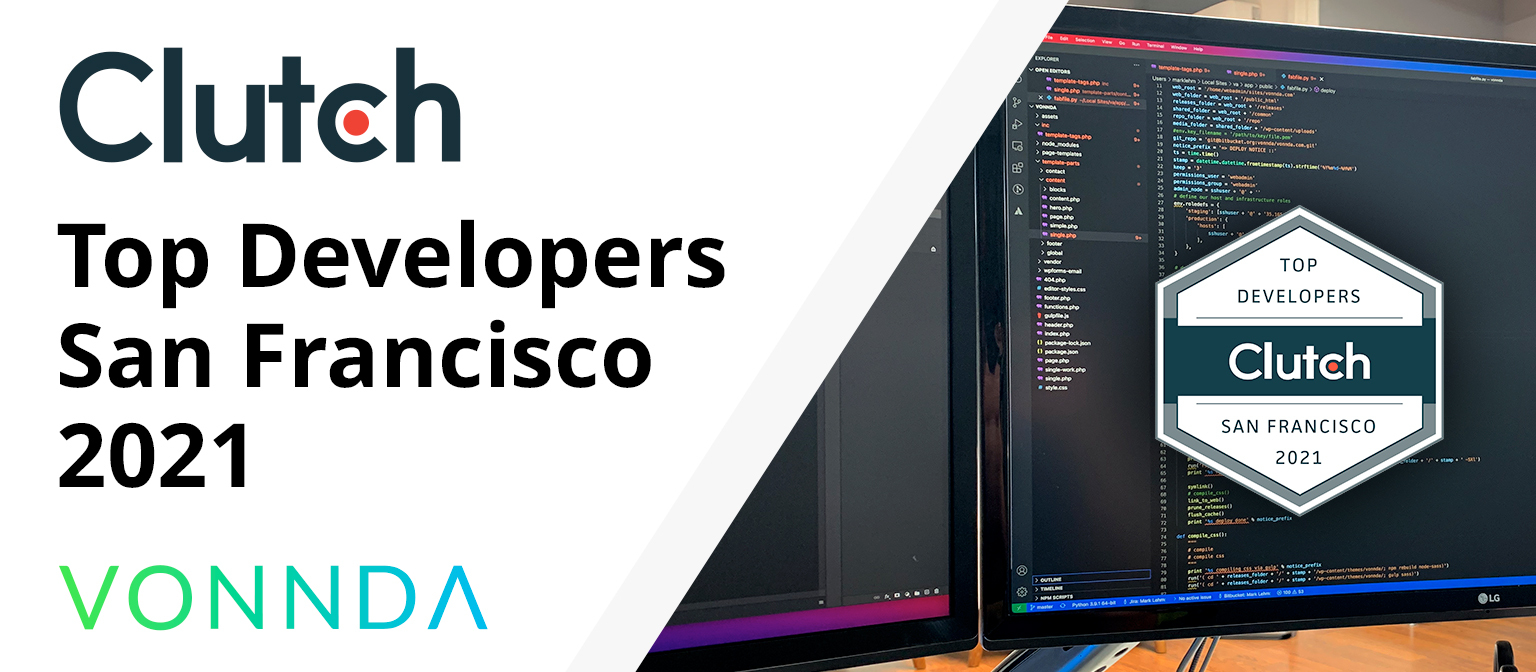 Everyone in the B2B industry depends on creating a lasting impression so they're the first people who come to mind when a client needs support. Creating an exceptional customer experience isn't the easiest thing to do but we've consistently prioritized doing just that. Not only do we have expertise in web development and stellar work ethics, we also make sure to provide our clients with a quality experience overall.
Now our clients have responded in the best way possible; with their continued patronage and their glowing reviews. We're proud to announce that Vonnda has been recognized as the Top Development Company in San Francisco by Clutch for the year 2021.
Clutch is an online B2B reviews platform that uses a unique verification process to determine the authenticity of the information sent to them. In order for a company to become #1 on Clutch's list, they need to accumulate multiple high quality reviews within the allotted period.
This award is tangible proof of the hard work and dedication that Vonnda puts into every project we work on. We'd like to thank our clients and partners who took the time to write reviews on Clutch on our behalf; this award wouldn't be possible without them. Here's a few reviews that have really shown what we're capable of:
Our page speed has doubled. Refreshed pages are easier to digest and we are seeing more users spend time on the site. Lastly, working with the Vonnda team is a pleasure. They work extremely efficiently!
– Director of Marketing, Conservatory
We have some really complex business logic in our core systems, but Vonnda has delivered what we need. Now that we've been able to test their solution, we can say that Vonnda knocked it out of the park. They delivered high-quality work with almost no issues. We will likely engage with them on a second contract.
– Director of Engineering, Food Company
They put a significant amount of effort into helping us even though we had little technology behind us. Their team turned our site into a modern and clean platform, which was an incredible undertaking. They're our only tech partner, so their team takes on many projects.– Co-Owner & CEO, Seeds & Supplies Retailer
We'd be happy to show you first-hand how Vonnda has come to earn such great reviews. Get in touch to find out how we can help with your next project.